148 Days: Measuring in Hours, Not Miles = Adventure!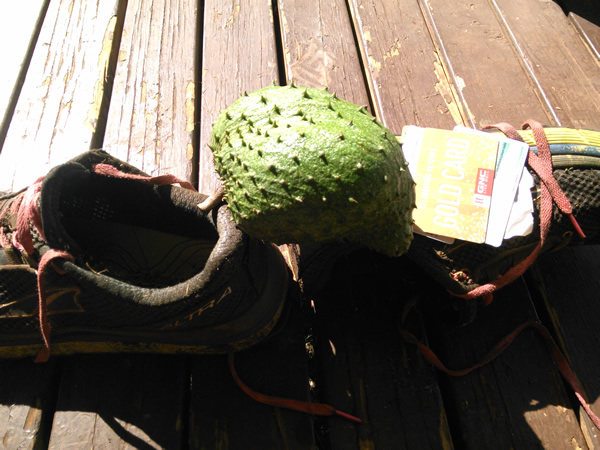 This past week, training has taken a shift in my mind. Up until just recently, I've been measuring my runs and workouts in measured in distance and pace. But now the game has changed. Training runs in hours not miles. The little pep talk with myself goes something like, "Okay, if you wake up at 4:00am and get out the door by 4:30am, you can run for 4 hours and be back in time to take Soul to preschool by 8:45am. Let's see where can I go that's going to be about 2 hours each direction, and what do I need to bring?" Adventure!!!
It's actually very liberating to think this way. When you just go for it and know that you'll turn around at a certain time, long runs become an adventure. You don't know exactly how far you'll get, how good you'll feel, or what you'll find.
Earlier this week I found myself running through the road that goes through the pineapple fields from Haleiwa to Wahiawa. And what did I find? A beautiful sunrise, piles of pineapple tops ready to be planted, a soursop (my wife's favorite) in the grass, and a litter of someone credit cards on the side of the road. I took in the beauty of the sunrise, stuck the soursop in my pack to bring home, and took all the cards to the bank of the fellow who lost them. (View on Strava)
This morning I only had an hour and a half and I found myself doing repeats up and down a half mile stretch of sand on the beach from dark through sunrise. It was amazing. (View on Strava) Content.